Pomegranate – Punica granatum L.
POMEGRANATE TREE (PUNICA GRANATUM L.) TAXONOMY
The pomegranate tree belongs to the Punicaceae, not closely related to the Rosaceous pome fruit producing trees despite having the same fruit type. The most popular cultivar is 'Wonderful' as it is large-fruited and fruits are well-colored. It is not so "wonderful" in Georgia, generally being killed to the ground in most winters; better selections are becoming available.
ORIGIN AND HISTORY OF THE POMEGRANATE (PUNICA GRANATUM L.), HISTORY OF CULTIVATION
The pomegranate tree is native to the area between Iran and northern India, and has been cultivated since ancient times throughout the Mediterranean basin to India, where it is still cultivated today in largest quantity. The plant was used in many ways, including juice, dyes, inks, tannins for leather (bark) and a variety of remedies for various ailments.
Folklore, medicinal and non-food uses.
Because of its long history of cultivation, folklore and non-food uses of the pomegranate are many. It is popular in Egyptian mythology, the bible, and other ancient writings. It was a symbol of fertility in many ancient cultures. The bright red juice was often used as an ink in ancient times. The fruit has a fairly long shelf-life at room temperature, and hence was carried on long journies through desert climates as a source of water and nourishment. Today, pomegranates make nice ornaments for fruit bowls or Christmas wreaths, as the fruit are marketed around the holiday season.
WORLD AND UNITED STATES POMEGRANATE (PUNICA GRANATUM L.) PRODUCTION
Production statistics
A. World. none available.
B. USA
California produces about 17,000 MT annually on about 3000 acres, for a value of $4.9 million (13 cents/lb).
For the most up to date statistical data on United States and World production numbers please refer to the following two websites:
World: The Food and Agriculture Organization of the United Nations Statistics Division (FAOSTAT). FAOSTAT
United States: The United States Department of Agriculture National Agricultural Statistics Service (USDA Ag Stats). USDA Ag Stats
POMEGRANATE TREE (PUNICA GRANATUM L.) BOTANICAL DESCRIPTION
Botanical description
A. Plant: The pomegranate is a small tree or large shrub (to 12-18 ft), with a branching, suckering habit. Leaves relatively small, slender oblong, almost sessile.
B. Flowers: Large (> 1 inch), red (sometimes white), funnel-form flowers are borne terminally on clusters of 1-5.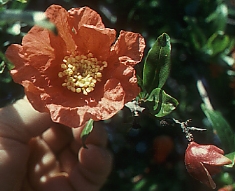 C. Pollination: Pollination is by insects or hummingbirds; cross pollination generally improves fruit set.
D. Fruit: Irregularly rounded pome with bright red, leathery rind and a prominent calyx. The rind encloses membranous, white tissue (endocarp) which in turn encloses the arilate seeds. The juice is contained in the arils. Fruits mature in 6-7 months.
POMEGRANATE TREE (PUNICA GRANATUM L.) GENERAL CULTURE
A. Soils and Climate:
Soil – Pomegranate trees are fairly drought tolerant and can be grown on either calcareous or acid soils.
Climate – Grow best in dry climates with mild winters.
Chilling requirement – Unclear; can be grown in tropical climates without chilling.
Cold hardiness – Wood tolerates temperatures down to -11°C (12°F).
B. Propagation: Rooted cuttings or seedlings; sometimes as layers or suckers.
C. Rootstocks: not used.
THE POMEGRANATE (PUNICA GRANATUM L.)'S CONTRIBUTION TO DIET
Pomegranates are most often used in cooking or juiced, as they are difficult to prepare for eating. You can roll the fruit on a hard surface with moderate hand pressure to break the arils inside the fruit, then cut a hole and suck out the juice. In salads, pomegranate seeds are used with aril and seed intact, since it is hard to remove the aril. Grenadine syrup is often used in mixed drinks (like the tequila sunrise) to add a sweet flavor and a dark red color. Disappointingly, pomegranate juice is not even used in commercial grenadine syrup anymore, being replaced by the infamous corn sweetener and FD&C red dye 40! Elizabeth Schneider suggests that homemade grenadine can be made with 2 cups of seeds/arils and 2 cups of sugar, boiling to reduce and straining out seeds. Real pomegranate juice can be found in middle-eastern specialty grocery stores.
Dietary value, per 100 gram edible portion:
Water (%) …………………………………… 79
Calories ……………………………………… 70
Protein (%) …………………………………… 1.1
Fat (%) ………………………………………… 0.9
Carbohydrates (%) ………………………… 18
Crude Fiber (%) ……………………………… ? (low)
% of US RDA*
Vitamin A ……………………………………. —
Thiamin, B1 ………………………………… 0.2
Riboflavin, B2 ………………………………. 1.2
Niacin ……………………………………….. 1.4
Vitamic C …………………………………… 8.9
Calcium …………………………………….. 1.0
Phosphorus ………………………………… 2.8
Iron …………………………………………… 8.0
Sodium ………………………………………. —
Potassium ………………………………….. 5.5
To the top
* Percent of recommended daily allowance set by FDA, assuming a 154 lb male adult, 2700 calories per day.